It is the end of the year which means I am writing my personal and professional goals for the next 12 months. Today I thought, why not write a post about my 2018 travel goals? Traveling more was a priority for me in 2017. After a few years of personal setbacks and health issues, I felt like it was time to focus on the things I love to do, and there are not many things that I love more than travel. I took two trips in 2017, a very brief visit to Chicago
and an extravagant (at least by my budget travel standards) 40th birthday trip to Kingston and Montego Bay, Jamaica. In 2018, I plan to at least double, if not triple, that number.
Linda in Montego Bay
I believe in dreaming big. One of my favorite sayings is, "Reach for the moon because even if you fail, you will grab some stars." Most of my travel goals are more aspirational than realistic. There is only so much time and money that I can devote to travel, but hey, you never know what can happen. I might finally hit the Powerball or find a wealthy benefactor to fund my travel fantasies. Even without divine intervention, I'm hoping to cross a few of these destinations off my list, and for the places that I cannot visit, there is always 2019.
So let's get started. Without further ado, here are my 2018 travel goals.
Sydney, Australia
I am ecstatic to tell you that this is one goal that will become a reality in 2018. Thanks to an error fare that popped up right after Thanksgiving, I am headed to the land down under in July. HAPPY DANCE! Australia has been on my travel bucket list since I read Bill Bryson's
In a Sunburned Country
many years ago. Oddly enough the book is partially about the variety of animals that can kill humans in Australia but never mind all that. I want to see koala bears and kangaroos and see the Opera House and climb Sydney Harbour Bridge and whatever else Sydney can throw at me during my visit.
I will visit the Sydney Opera House in July.
Atlanta
The ATL is a city that I have driven or flown through numerous times on my way to somewhere else. I have always felt like I should stop and stay awhile but it never happened. Like Sydney, Atlanta is already planned and booked. Mom wants to visit her cousin who lives there and she needs a driver. Guess who volunteered? No reason I can't visit a few sites like the Center for Civil and Human Rights or the Coca-Cola museum (I love Diet Coke) while she spends time with the family. Atlanta also has a first-rate restaurant scene. I love eating at new places as much as I love to travel, so I am looking forward to this trip.
A road trip through the Florida Keys
In 2006 Budget Travel published an itinerary for a road trip through the Florida Keys. The article captured my imagination immediately. I easily picture myself driving along the narrow coastal highway, hopping from one key to another in a beautiful convertible. Almost twelve years later, I still have the article safely tucked away under my bed. Is a glass-bottom-boat tour of mangrove swamps in the works for 2018? How about eating a succulent dinner of grilled grouper while watching the sunset in Key West? I hope so.
Dubai
A few years ago Mom and I had the pleasure of flying Emirates to Uganda via Dubai. Regrettably, we missed our connecting flight to Entebbe and were stuck in Dubai until the next day. The Emirates staff handled the layover like the gifts to customer service that they are, and took care of all the hotel arrangements. Unfortunately, I was so disappointed in missing the onward flight that I sulked in the hotel room the entire time. This is my BIGGEST TRAVEL REGRET to date. I should have explored the city to the fullest extent, or at least taken the short bus tour offered by the hotel. My regret grew when my sister and family used their extended layover to book a desert adventure. She has gorgeous pictures of her children walking through the vast desert at sunset. I must correct my mistake ASAP.
The view from a hotel in Dubai which I never left. Sad!
Chicago
I wrote about
my very brief trip to Chicago
a few posts ago. One day was not enough time to even scratch the surface of everything there is to see and do in the Windy City. I long to return and devote a proper amount of time to this magnificient metropolis. A few things that I missed: The Art Institute of Chicago, Field Museum, Willis Tower Skydeck, and untold amounts of superb food. I will be back Chicago, if not in 2018, then 2019 for sure.
An "L" train in Chicago rumbles through downtown. I hope I can take another ride in 2018.
Hawaii
As I write this at the end of 2017, airlines are advertising unbelievably inexpensive fares to Hawaii from the east coast. Just a few minutes ago flights for $374 roundtrip from Atlanta to Honolulu popped up. That's crazy!! The only reason I am not buying a ticket is that my travel funds are going towards the Sydney trip in July. Ugh! My hope is that these cheap fares come back in 12 months. I won't let this opportunity pass me by again.
London
My first overseas trip was to Dublin, Ireland where a good friend was doing a semester abroad. On my way back to the U.S., I stopped in London for a few days. It has been one of my favorite cities in the world ever since (Dublin was no slouch either). Sadly, it has been over 10 years since I last visited and I am itching to get back. Perhaps a royal wedding in May will provide the motivation and opportunity to tour this splendid city again.
Barcelona
Here is a little-known Linda fact. I took Spanish lessons this year and feel ready to practice with native speakers abroad. Despite the political situation, I have heard wonderful things about Barcelona, and they certainly speak Spanish. If I can find an inexpensive flight near the end of 2018 this trip could happen. New Years Eve 2018 in Spain? Sounds good to me.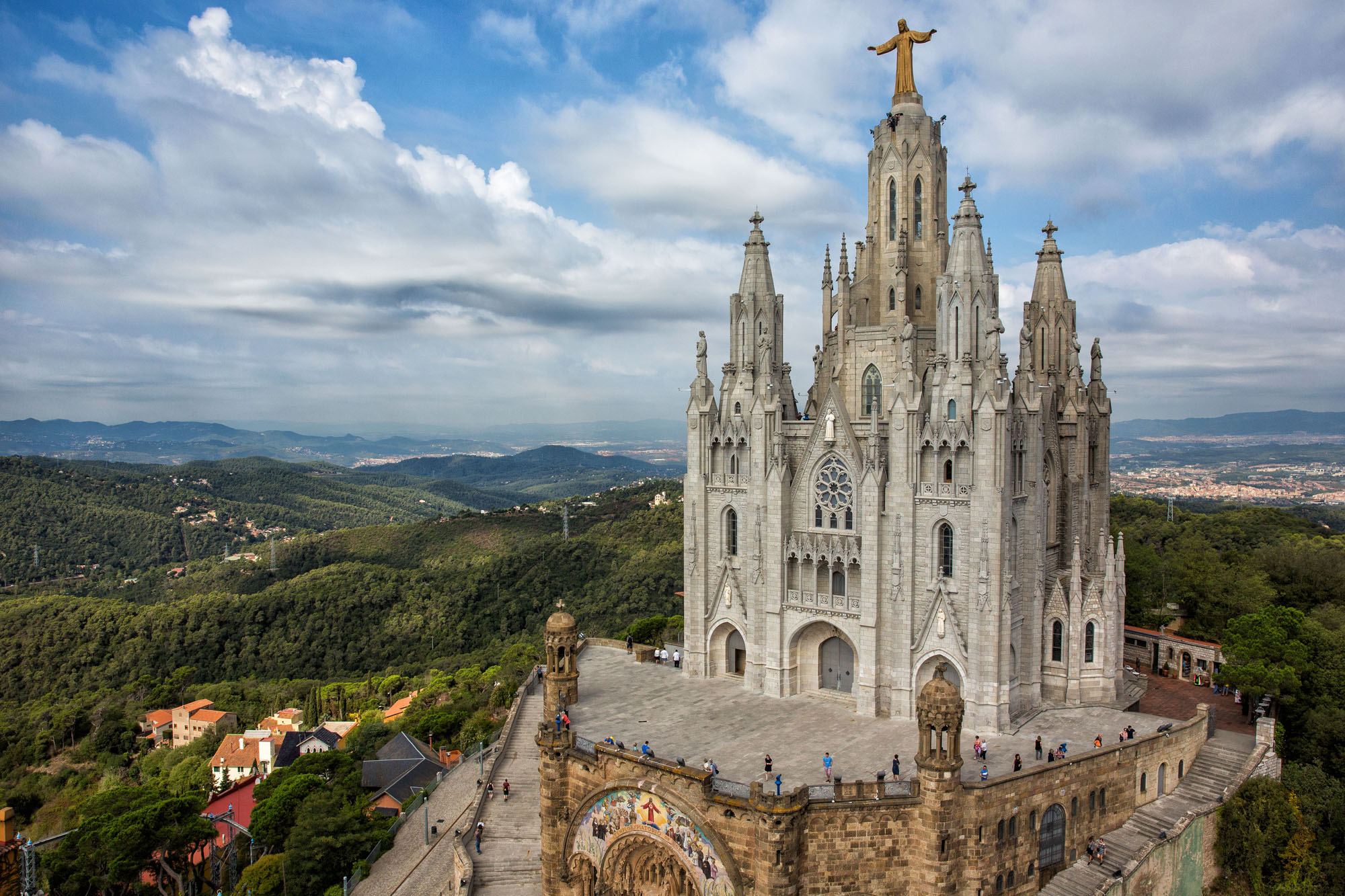 Temple Expiatori de la Sagrada Familia in Barcelona
Reading over my "Travel Goals for 2018" I realize I might need a second job. Haha. There is nothing wrong with dreaming big, plus I am a big believer in writing down goals. It makes them seem more attainable. I am thrilled that two of my goals are already planned and booked. Even if those two trips are all that I can do next year, I'm sure that travel will continue to be a priority for me in 2018 and beyond.